Current Hot Rod Project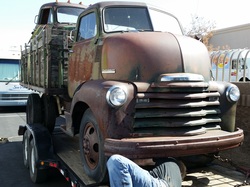 My Bride and I are working on a 1947 Cab Over Engine (COE) 2 ton Chevy truck. My plans are to make this a crew cab that flips forward to reveal a diesel engine mounted mid-frame. When we are done we will be driving this around the country pulling a fifth-wheel trailer.

My bride affectionately calls it my pile of rust. For me I have to have my project tell me what it's name is as I'm building it.

My last hot rod was a 1956 Cadillac Sedan Deville. Her name was Sophia, after Sophia Loren. So far this build has not told me what it wants to be called. I'm sure as I beat it into a hot rod it will tell me.

I have built and sold some 30 or 35 hot rods. I don't follow any theme. I just build what I want. I don't build hot rods for anyone but myself. If I have a finished rod and someone wants to buy it, I'll sell it for the right price.

I work on this when I have a writers block. Taking a big hammer to beat on steel or using a blow torch to cut metal is good therapy for me.

I will be posting more pictures as I accomplish more work.

---
---
As a 69 year old truck it really needs work. I do all the work myself out of my garage except for the glass and upholstery. Everything else I do. Body work using the old lead process, welding, wiring, painting or anything else that needs to be done to get these old gals back on the road with a new outlook on life.


For up to date information on our build please visit my blog. Please click on the link below.
---