Zombie World Domination:
The Destruction Begins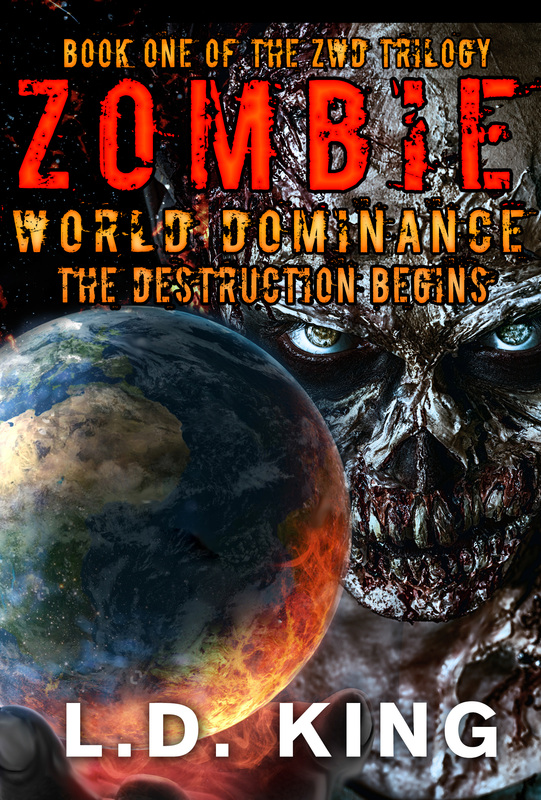 ---
In 2036 the zombie outbreak exploded throughout the world. The zombies were killing hundreds of thousands of people daily around the world. Nothing mankind did could stop the zombies. Nothing mankind did even slow the growth of the zombies. Once the zombies began they moved forward like a conquering army.

For nearly a year, the world as they knew it, had ground to a stop. Every utility, means of communication and transportation that had existed was gone. They had been replaced with simply surviving from one day to next.

During that same year the number of zombies had grown. They had been able to kill hundreds of millions or even several billion people worldwide. There was no way to keep an accurate count of the killed and missing. Adding to the zombie killings bandits were killing other survivors for their meager supplies.

Survivors were starting to huddle in small camps they could secure from the zombies. In 2036 the population of the world was 8.8 billion. The secure camps could only hold a small number of people, several thousand at best. There was no way they could save the remaining people left on earth. As of yet there was still no way to stop the zombies. The survivors in the camps were ready to remain in the camps of years until the zombie outbreak was stopped. They grew their own food. They had a secure source of water. When the camps were filled to capacity, they stopped letting others enter the camps.

The Destruction Begins follows the struggles that many groups of people were going through as they fight to survive the zombie outbreak. They fight for their very lives. They fight just to survive the day. After a year of fighting, nothing was working to stop the zombies. The human race was doomed.

After a year of the killings there was no relief in sight. If the zombies could not be stopped, and stopped quickly, the human race on the planet Earth would cease to exist except for a few secure camps across the globe. But these camps only made up less than ten or twenty thousand people. In a little more than a year the human race would have gone from 8.8 billion to less than 20 thousand.

The zombie outbreak must be stopped if mankind had any chance to survive in any significant numbers.


---
What several readers have said about my novel.
Below are actual reviews (with spelling and grammatical errors) left on Amazon from readers who purchased my novel from Amazon. These reviews are on Amazon if you chose to see them for yourself (a link to Amazon is above).
By
Crystal
on September 25, 2016.
This book offers what so many zombie books and shows lack… it shows the BEGINNING of the zombie apocalypse! Even Fear the Walking Dead still hasn't explained what caused the apocalypse. It's beyond frustrating!
From the very first page, we get to watch as society slowly unravels. There is wonderful description, lots of dialogue, violence with a purpose, and an interesting plot. It's a story you want to keep reading!
Even though this is a long book, I finished it in a surprisingly short period of time. I just flew through the pages, waiting to see as the characters figured out what exactly was going on… and who would survive it. I recommend this story for anyone who enjoys zombie novels or shows. You won't be disappointed!
By
Igor
on August 19, 2016
.


This is a great zombie novel. The story felt believable and was written such that I could totally identify with the main characters. The reader is taken along this roller coaster of a story through all the horrors, painful mistakes and horrifying injuries. This book throws up into bloodcurdling apocalypse scenario: fights for survival finding food and shelter, defending yourself against the zombies, and coming to terms with an altered world where sickness and injury have to be taken care of yourself and not in the plush, well-equipped hospital; and thanks to the author for devoting his time and effort towards this book and showing the amazing resilience of the human spirit. Yeah, it's a true Zombie World Apocalypse – you will have a hard time putting this one down!
After all, I hope, dear reader, you'll root for surviving mankind till the very end of the book, which will let you desperately find a way out of this world and finally breathe. But there is some good news, too: L. D. King, the author of Zombie World Dominance planning to write two more books on the way, which are probably just as good, realistic and fresh as this one.
By
Emily
on July 26, 2016
.


If you are looking for a vague, kind of interesting but never really commiting, know the ending as soon as you finish the first chapter sort of book, then this is definitely not the book for you! I was immediately gripped by this innovative and well written zombie book that uses teenage protagonists to explore what is essentially a post-apocalytic world, and L. D. King never ceased to amaze me with clever narrative twists that really brought the story alive. I'm not really one for gore for gore's sake, and I like my violence to have a little plot driving it, which is exactly what this book delivered - and then some! I couldn't wait to turn each page, desperate to know what was going to happen next, and even when I thought I had been clever enough for work it out - nope, completely wrong! Reading this book was awesome, and I can't wait to read the sequel - and I'm hoping that there are going to be more than 3 in this series! I would highly recommend this book.