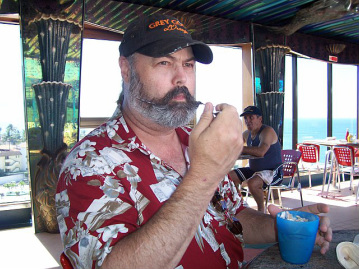 L.D. King has been a resident of Las Vegas, Nevada for over 46 years. He grew up on a working cattle ranch near Silverton, Oregon. In high school he was a starting lineman for the football team. During his last two years of high school, he became a rodeo bull rider. In the late 1960s, L.D. proudly served his country as a member of the U.S. Army.

After being discharged from the Army, L.D. moved to Las Vegas for his health. Oregon was just too wet for his health. His first job in Vegas was programming slot machines for the casinos owned by Howard Hughes on the famous Vegas Strip. He also began performing standup comedy in his spare time.

After a number of years working in a cubicle L.D. realized that he loved being outside. He left his day job programming slot machines and started a small construction company building and remodeling homes in the Las Vegas area. After many years of doing construction his bull riding injuries, injuries from construction coupled with the desert heat started made L.D. realize that he was getting a little long in the tooth. He sold his company. L.D. then took a gig as a comic on a cruise ship plying the waters of the Mexican Riviera. After years of late nights and smoky rooms, L.D. left comedy for good.

Following comedy, became a residential real estate agent. For the next 25 years, he sold homes in Las Vegas.

In addition to all of that, throughout his time as a programmer, comedian, contractor and real estate agent, L.D. held a private pilot's license. He devised a unique service that he offered to casino hosts. He would fly their high rollers to one of the many legal bordellos in Nevada. He did this for many years, until his age and injuries crept up on him and grounded his career as a flying pimp. He could still fly, just not with paying customers.

L.D. recently retired to pursue his writing full time.

Today, L.D. is a proud husband, father and grandfather to his blended family of six children and four grandchildren. His hobbies are cooking and building hot rods.

Drawing from his various careers L.D. is able to add a unique twist to his novels as he brings them to life.

---